The suspects are Kwabena Nkrumah, Yaw Okyere, Abanga Dauda and Osei Kwadwo. However, the fifth suspect, Joseph Akanwuro, has jumped bail and a bench warrant has been issued for his rearrest.
The first suspect, Kwabena Nkrumah, is expected back in court on September 14, 2020, while Yaw Okyere, Abanga Dauda and Osei Kwadwo are to reappear on September 22, 2020.
Briefing DAILY GUIDE, Nifaasoyir Chrisantus, the Nkawie District Forest Services Division Manager, said the suspects were arrested in two different locations, carrying out their illegal mining activities.
A team of forest management officers, including the assistant District Manager, Edward Nyamaah, Forest Range Manager, Rose Gyawu Amankwah and some forest guards in the Jimera forest reserve and Tano Offin forest reserve within the Nkawie forest district nabbed the illegal miners.
Items retrieved from them included a gold detector machine, two machetes, three pickaxes, two pumping machines, a motor bike and four shovels.
However, a washing machine which was seen mounted at the site was destroyed since it could not be moved.  An excavator which had its control board removed and seen a distance away from the reserve was suspected to be the one allegedly used by the suspects to carry out their nefarious activities.
The illegal activities were being carried out in compartment 22 covering about one hectare with a total of 40 served pits dug all over, which forms part of the degraded portions of the reserve that is being converted into plantations by a private company called 2IIs Company Limited under the public private partnership.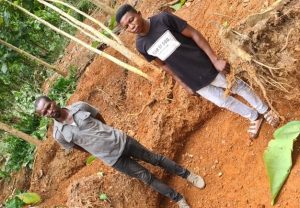 Nifaasoyir Chrisantus commended workers of the private developer for playing a part in the arrest of the suspects.
The district manager sent a strong warning to those who are still in the illegal mining business or have the intention to engage in it to desist from that or face the full rigour of the law when apprehended.
He urged fringe communities to support the drive in protecting the forest and also advised those who harbour people engaging in 'galamsey' to desist from that habit to avoid being charged jointly with suspects.
He commended the chiefs, police and Nkawie Circuit Court for their support in reducing forest offences.
David Afum, Kumasi